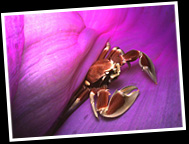 In 2004 and again in 2006 we traveled to Thailand. Both times we spent 10 days on the Ocean Rover liveaboard out of Phuket and dove in the Andaman Sea, stopping in Myanmar (Burma) for one afternoon of shopping, sightseeing and to secure the necessary documents allowing us to dive in Burmese waters. On our first trip we spent several days in Bangkok enjoying the culture, the beautiful people and the teeming city with its great temples, exotic canals reminiscent of Venice and outdoor markets. A visit to the flower market with what seemed like a million orchids, left us in awe. In 2006 we took a short flight from Bangkok to Siem Riep, Cambodia, visiting the fantastic temples of Angkor Wat, and lake Tonle Sap, the largest in Southeast Asia, where entire villages live on house boats that include all services—stores, schools, gas stations—as well as homes.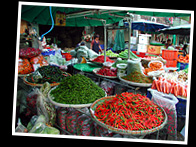 The Ocean Rover is the best dive boat we've been on. It was designed from the ground up for diving and has many features aimed at making things easier for divers. The accommodations are great and the helpfulness, knowledge and friendliness of the crew are unsurpassed.
On our first trip we were treated not only to mantas but also to a dive with two 30 foot whale sharks that stayed close to the surface and swam with us for a full hour until we ran out of air. In 2006 we spent an entire day, four dives, with a group of six mantas who seemed to enjoy our company and who swam over, below and around us. It is hard to find words to describe the extraordinary majesty and grace of these imposing animals. On both trips there were many dives with an array of macro and wide angle opportunities that would satisfy any diver and photographer.