In 2005 we combined shore diving at Sulawesi's Kungungan Bay Resort on the Lembeh Straits with another voyage on the Ocean Rover, this time in Northern Sulawesi waters. We had several days at KBR to check out our equipment then 10 days on the Ocean Rover and then another week at KBR.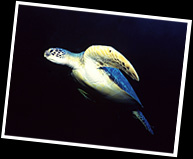 KBR Resort is touted as being macro heaven for photographers and we found this to be more than true. The diving is mostly muck diving with a few small walls. We saw many unusual critters that we had never seen before such as a hairy frog fish and a tiny poisonous blue-ringed octopus. The water was colder than anticipated (75-78 degrees) and I was sorry I did not bring a wetsuit—only a thick diveskin..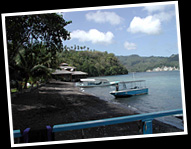 KBR had promised us E-6 processing for 35 millimeter film, a necessity as the Ocean Rover had stopped supplying this service and I wanted to make sure my cameras were working before getting on the boat. Unfortunately, the E-6 processing was not the best and some of our film was damaged.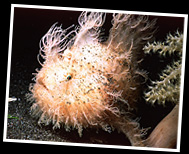 It is becoming more and more difficult to be a film photographer overseas as very few locations are now equipped to do E-6 processing, claiming that the necessary chemicals are unavailable. However, this was never a problem before digital photography became so popular. I guess E-6 processing is no longer cost effective in remote locations when there are few film photographers left.