We've been to Papua New Guinea, known as PNG, twice. In 2001 we dove from Mike Ball's live aboard, the Paradise Sport. In 2006 our diving was shore based, from the new Tawali resort. The first visit was especially memorable as it was Don's fist diving trip – quite a destination for a new diver!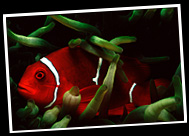 In 2001 I felt PNG offered more photographically than any other place I had been to. Deacons and Dinah in Milne Bay was my first true muck macro site. We spent a full day there and I took some of my favorite and best pictures. There were beautiful soft corals and an endless variety of small critters.
After 10 days on the Paradise Sport we spent a week in Kandavu, Fiji at the delightful Matana Beach resort. The diving, however, was disappointing. I had spent several weeks at Matana Beach resort in 1994, diving with my son, Gabriel and the diving was wonderful. Seven years later the nearby dive sites were badly damaged by bleaching and volcanic eruptions. The hosts of Matana Beach, Bob and Reina, did there best to take us to outlying reefs, but after my initial trip this visit was a letdown. Hopefully, diving at Matana Beach has recovered.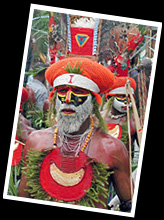 In 2006 we visited PNG for the second time and included a side trip to Goroka in the highlands to see the Sing-Sing, a celebration of tribal dance and music. Initially I was reluctant to give up diving for the three days required to travel to the festival. But it turned out to be a truly incredible combination of sights, sounds and smells. The PNG tribes, although Christian and usually very modest in their dress, abandon daily attire and don traditional tribal costumes for a weekend-long competition to determine which village has the best costumes and dancers. Very few outsiders or westerners were at the Sing-Sing. It was obviously a genuine cultural festival and not the sort of hokey event sometimes set up for a busload of tourists.
To reach Tawali from the airport at Alatau took a two hour drive along a bumpy road that skirted the jungle and shoreline followed by a ride in a small open boat in pitch darkness that lasted another hour. There are no roads that reach Tawali. It was quite an adventure.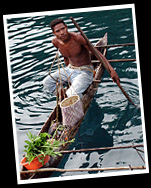 Although Tawali is beautiful and amazing – carved out of coral and jungle – and the facilities are very nice, I found the diving to be not as convenient as boat diving. Our day trips to dive sites were at times long and tedious on a boat that lacked the comfort of being able to retreat to your own cabin between dives and also lacked adequate space for photographers. The resort was very near my favorite dive site from years before, Deacons and Dinah. The muck diving at Dinah was as good as I remembered, but the beautiful corals, fans, sea whips and anemones at Deacons were no more. Instead, I found rubble and a few surviving seafans.