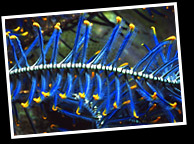 After our first trip on the Ocean Rover in 2004 we visited Bali. We stayed at the Alam Indah, a wonderful hotel set in beautiful gardens adjacent to the Monkey Forest of Ubud. It has all the charm of a true Balinese hotel without frills but with all the required amenities. Most of our time was spent relaxing and exploring the area around Ubud. But we also drove to Tulamben for two days of shore diving.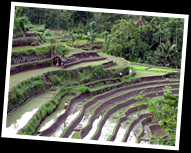 I first dove at Tulamben in 1991 before I was involved with underwater photography. A few simple hotels had been built along the shoreline that was without development in 1991. Indonesian women still carried our tanks and equipment along the beach with graceful ease while we followed with difficulty, stumbling along the rocky shore.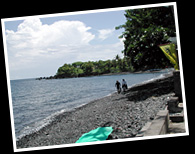 The diving at Tulamben was heaven for me, as the shallows were carpeted with anemones hosting percula, maroon and skunk clowns. The dark volcanic sand is ideal for muck diving and macro photography. There is an easily accessible wreck, the World War II ship the USS Liberty, just offshore at a depth of 15 to 90 feet that is home to beautiful coral and many species of fish. Unfortunately, poor visibility did not permit good wide angle photography while we were there.