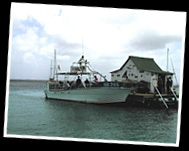 Bonaire has been a frequent destination for me since 1994. Don learned to dive there in 2001. Several trips have been with our dive buddies, Vic, Judy and Marie. Bonaire is a wonderful place for easy effortless diving in warm clear water with little or no current. Most dives are shallow and there is rarely need to dive below 80 feet. Bonaire has some of the best shore diving in the Caribbean, though land access to some sites has been lost to development.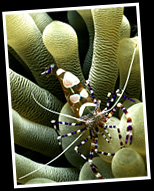 Diving typically is in the morning and afternoon by boat, two tanks on each trip, or you can pick up a tank anytime and jump off the pier of your hotel for a dive at the nearby reef.
Bonaire has wonderful large orange elephant ear and blue fluorescent sponges and plentiful frog fish and seahorses. There is great diving under several piers where heavy growth of sponges and coral provide shelter for macro subjects both during the day and at night.