I dove in Palau in 1999 spending 10 days on a liveaboard, the Peter Hughes Sun Dancer. Accommodations were excellent. Camera space and photo processing were both available.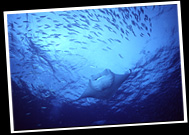 Especially memorable were swimming with feeding mantas in the German Channel and accompanying sharks while speeding through the Ulong Channel carried by racing currents. We made it through quite a storm one night only to find that one of our following dive boats had flipped over with all our dive gear! We spent much of the next day picking up fins, masks and regs from the bottom and following debris to recover the remainder.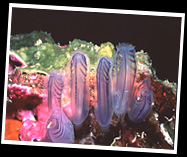 After Palau I flew to Yap where I stayed at the Manta Ray Bay Hotel. Little was seen of Yap's famous manta rays (luckily there had been plenty in Palau) but the coral reefs were some of the most pristine I have ever encountered.